375mg
Potassium per
serving
Us:
Absolutely no sugar or carbs
No fillers or pointless ingredients
Enhanced absorption into the muscles
Highest quality forms of electrolytes
Highest number of servings on the market
Over-delivers at an incredible price
Them:
Filled with sugar and carbs
Contains more fillers than active ingredients
Slow absorption into muscles
Low grade forms of electrolytes
Not enough servings
Over-priced and under-delivers
Made in the USA
All of our products are proudly made in America. We have gone to great lengths to make sure that every single one of our ingredients is American-made, and we never compromise on quality. We have 2 manufacturing facilites and 6 warehouses spread all over America, in California, New York, Miami, and other incredible cities to ensure you get the highest quality products delivered to you as fast as possible. God bless America.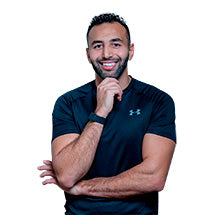 Our Mission
After being sick and tired of seeing countless supplements filled with unnecessary and harmful fillers, underdosed, and under-delivering, we set out to change the way supplements were designed for performance athletes. We created clean, filler free, sugar free and carb free supplements with doses clinically studied by scientists and ingredients that work. We created them because we wanted them for ourselves, our teammates, our friends and our family. We set our goal to enhance 10 million lives by 2030.
My mom still calls me every morning and thanks me for making HRDWRK Energizer and sending her a bunch of them. "It fills my heart and I know I am on the right track."
Mina Elias
Founder and Head of R&D
Liz J.
Love this stuff! This is such a great deal for 100 servings! Other electrolyte supplements either have tons of sugar or small servings that can get really pricey. The Mango Pineapple is great on its own, but I also add it to soda water when I want to change it up! A little bit goes a long way with this!
Chris G.
This product is absolutely great! I took it an hour before my workout and had a great pump and incredible strength during the workout. Highly recommend for people that have hard training sessions.
Jennifer N.
Decided to buy Hydrolyte when I started back up at the gym and wanted to lose weight and get back in shape. I really helped with all the cardio workouts and runs I was doing. Definitely recommend.